src="http://pagead2.googlesyndication.com/pagead/show_ads.js">
"Music is life.
Therefore the music that I make will most likely be centered around everyday social issues that are affecting our communities." 
                                                                        ARapperNamedBilal
Born in New Orleans & raised in nearby Kenner,LA ARapperNamedBilal fell in love with music at an early age. He wrote his first rap, played the drums, piano & clarinette through the ages of 7 to 9. He battle rapped at local parties, in jr high & high school. With much encouragement from family & friends, Bilal did his first official recording in 1999. The project was titled " No Time To Play " a compilation CD released by the independent label, 3rd Eye Ent . From 2004 to 2007, ARNB appeared on variuos mix-tapes with artists such as Soulja Slim, Field Mob, Mack Maine, Curren$y & others. In 2009 he launched his own independent label   INTRAKIT.ent based on the true roots of hip hop. Do you remember when Hip Hop made you think and it had a social message? Aside from dancing, lovemaking, and relaxation music should be conscious and informative. ARNB would like for his music to give the younger generation a different approach to music.
He's  all for freedom of speech which allows artists to make music about sex,violence,drugs,and extreme materialism,but people want and need to hear more than just that. Mainstream hip hop needs more conscious and positive messages for the younger generation to learn from.
Here is ARNB's first music video. A storytelling rhyme of everyday issues affecting the greater New Orleans area and places like it across the world. The song is called -A PlayStation Cost More Than A Choppa-.The video is from the DVD mix tape called -On The Fly- by:Iron Work ent.
Quotes from other artist:
Doug E. Fresh said, "He was caught off gaurd by the idea of hearing some legitimately conscious lyrics from a New Orleans rapper...
M1 of Dead Prez said, "This is the type of shit that needs to be out there."
Mack Maine President Young Money said, "Man dat nigga killed dat shit!"
You can purchase the single and a Tshirt below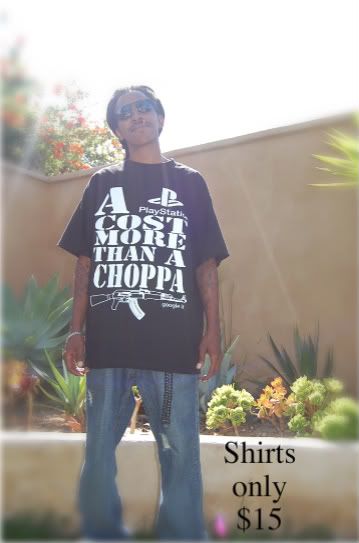 DOWNLOAD NOW FOR ONLY 99cents
Checkout my music video 
Live performance @ Brick Aleey in San Diego